Saturday, September 23, 2017
Saturday, November 12, 2016
Wall's well that ends well: The news that Donald Trump will be the 45th president of the United States didn't sit well with those south of the border, but perhaps made Mexico's 2-1 win over the USMNT all the sweeter
Tweet
Follow @omomani
Wednesday, November 9, 2016
Donald Trump won the US presidential election on Wednesday morning, earning 276 electoral votes to Hillary Clinton's 218.
Tweet
Follow @omomani
Tuesday, November 8, 2016
Mexican footballers watch on as Hillary Clinton and Donald Trump battle for the US presidency on election day!
Goal link:
http://www.goal.com/en/news/7180/galleries/2016/11/08/29097372/cartoon-of-the-day-november/cartoon-clinton-trump#photo
Tweet
Follow @omomani
Thursday, June 2, 2016
Chicharito and Hugo Sánchez, two Tri idols, try their hand in a Mariachi band as they dream of the Copa.
Tweet
Follow @omomani
Sunday, February 21, 2016
The USA is readying itself to welcome the Copa America, with the draw on February 21, but it seems that not everyone will be happy with next summer's competition
Tweet
Follow @omomani
Labels: Argentina , Barack Obama , Brazil , Chile , Colombia , Copa America , Donald Trump , James Rodriguez , javier hernandez balcazar chicharito , Messi , Mexico , Neymar , Sanchez , Tim Howard , USA
Saturday, April 25, 2015
The cartoon was shown also on Diario AS website:
Tweet
Follow @omomani
Tuesday, September 23, 2014
.
There's a new kid on the block at
Real Madrid
and he goes by the name of
Chicharito
.
The summer signing from Manchester United bagged two goals from the bench in Madrid's 8-2 demolition of Deportivo and could well have forced his way into Carlo Ancelotti's next starting XI.
That could mean the end for Karim Benzema's run in the team who missed out on the goalscoring party on Saturday as Gareth Bale (two), Cristiano Ronaldo (three), James Rodriguez (one) all found the net instead.
Tweet
Follow @omomani
Monday, September 30, 2013
The reasons behind David de Gea's unsettled start in the Premier League have been explained by Manchester United's former goalkeeping coach Eric Steele.

The 22-year-old was criticised for some of his early performances at United and Steele has revealed the sub-par displays were down to a combination of poor diet and attitude in training.

"There were lifestyle issues," he told United We Stand fanzine. "He'd sleep two or three times a day. He'd have his main meal late at night. He'd eat too many tacos.

"We pushed protein drinks on him straight after training. We had him in the gym a lot. He hated it. They don't do the gym in Spain as much. We needed to build his core strength.

"He would finish training and want to go home. When I told him to come back in the afternoon he'd ask: 'Why?'

"There were times in his first season when he trained poorly. I told him that players made decisions for managers, not the other way around. That he should be first, not last out for training."
Monday, September 30, 2013 12:00
Tweet
Follow @omomani
Sunday, June 16, 2013
With the World Cup under a year away, host nation Brazil stage the 2013 Confederations Cup with the rest of the world set to get a glimpse of what the country has to offer.

The hosts kick off proceedings on Saturday evening against Japan, with the likes of Oscar, David Luiz, Hulk and Neymar all expected to be in action.

And if that game alone does not boast enough big names, Spain have a star cast including Juan Mata, Fernando Torres and Andres Iniesta, Italy have Mario Balotelli and Andrea Pirlo, and Uruguay boast Edinson Cavani and, of course, Liverpool striker Luis Suarez.
Tweet
Follow @omomani
Labels: Balotelli , Brazil , Confederations Cup , David Luiz , Iniesta , Italy , japan , javier hernandez balcazar chicharito , Kagawa , Mexico , Neymar , Nigeria , Spain , Suarez , Tahiti , Uruguay
Thursday, January 3, 2013
Manchester United continued their march towards reclaiming the Premier League title with a 4-0 victory over Wigan on Tuesday which came largely thanks to Robin van Persie and Javier Hernandez.

The strikers bagged two goals apiece at the DW Stadium to ensure the Red Devils maintained their seven-point lead at the top of the table, with manager Sir Alex Ferguson later hailing his peashooting duo.

Indeed, Van Persie and Chicharito's form could be concerning for fellow forwards Danny Welbeck and Wayne Rooney, with the pair making goalscoring look easy peasy as of late...

Tweet
Follow @omomani
Saturday, May 28, 2011
Ahead of Saturday night's big season finale between the two European giants, Goal.com light-heartedly presents what will take place on and off the pitch at Wembley Stadium
By Carlo Garganese & Kris Voakes
Drawings by Omar Momani
10) Xavi Hernandez records more passes at Wembley than Michael Carrick...in his career...including friendlies...even school ones.
9) Dani Alves goes to ground after a particularly bad foul by Paul Scholes. The referee sends off Scholes but also books Alves. When the full-back tries to claim he didn't dive, the referee points out: "Of course you dived... the tackle was on Busquets."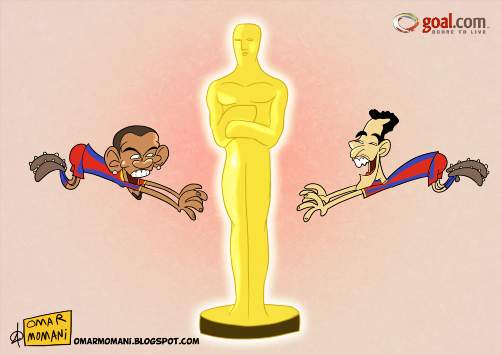 Move over De Niro & Al Pacino |
The Oscar for Best Actor goes to...
8) A minute later Wayne Rooney is clean through on goal, but suddenly stops running after hearing a whistle...blown by suspended Barcelona reserve goalkeeper Jose Pinto in the crowd. The striker is promptly sent off.
7) Sir Alex Ferguson is furious about the red card and the fake whistle. "Typical cheating Catalans," he is overheard muttering to his press officer after forgetting to switch off his microphone.
6)
Sky Sports'
Jamie 'never heard of Pato' Redknapp also blasts Barcelona's sportsmanship. "None of this foreign diving and cheating goes on in our league," he snipes to co-pundits Steven Gerrard and Didier Drogba.
5) After Pele remarks that Javier Hernandez is the "
next Lionel Messi
", the Mexican suffers an inexplicable drop in form - failing to score another goal for three years, and retiring from the game at the age of just 25.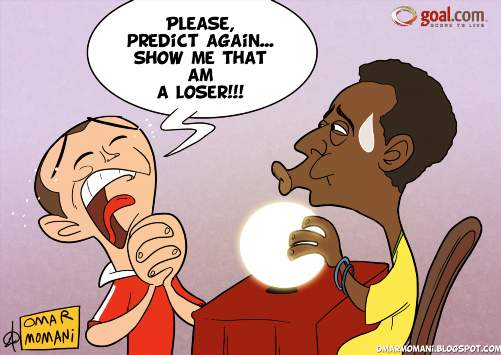 Pele's Plague | Hernandez joins Freddy Adu on The Jinx's long-list of victims
4) Messi scores a stunning hat-trick, including a slalom past the entire Man Utd team, but some Real Madrid fans still proclaim Cristiano Ronaldo as the best player in the world due to his 53 goals against Almeria and Levante.
3) An unnamed Premier League footballer, who is married with children, is denied the 33rd title of his career after coming on as an 85th minute substitute. In unrelated news, Ryan Giggs plays the last five minutes as he misses out on a third Champions League crown.
2) Giggs tries to match the heroics of Manchester United legend George Best. Like Best, he stars in a Man Utd team at Wembley in the European Cup final. Like Best, he attempts to score by sneaking up from behind Victor Valdes. And just like Best, he goes home with a Miss World contestant afterwards!
1) With Barcelona cruising to a 3-0 win, the fourth official indicates four minutes injury time, sending Sir Alex Ferguson into a rage. "At least 47 minutes should have been added," he roars, as he spits out his chewing gum.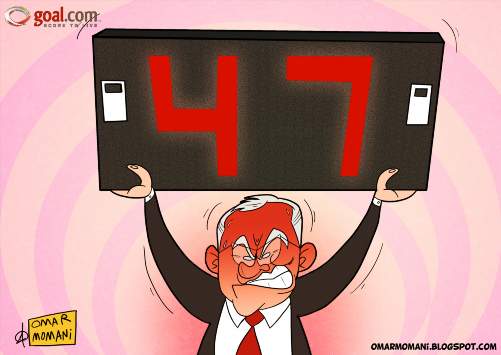 Fergie Time | Barcelona won't win the Champions League on his watch
What do you expect to take place during the Champions League final? Leave your light-hearted suggestions below in the comments box...
Follow Carlo Garganese on

Follow Kris Voakes on

Follow Omar Momani on

Labels: Alves , Barcelona , Brazil , Busquets , Champions League , England , ferguson , javier hernandez balcazar chicharito , La Liga , manchester united , Mexico , Pele , premier league , Scotland , Spain
Monday, April 25, 2011
Hello
this cartoon is about Manchester Utd last match against Everton
Man Utd won 1-0 by a goal from Javier Hernandez
here we have him with devil Ferguson